Pinebrook History
History of Ecker Hill
In the late fall of 1928, members of the fledgling Utah Ski Club set about establishing a ski jumping facility near Parley's Summit. The club consisted primarily of young Norwegian-Americans who were interested in promoting cross country skiing and ski jumping.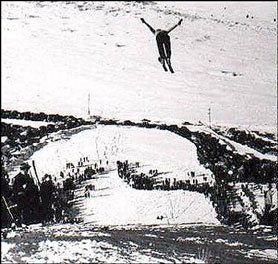 They completed the jump by Christmas Day 1928 and hosted the first ski jumping tournament on the hill in February 1929. The hill proved to be very suitable and in 1930 was officially named Ecker Hill by Utah Governor George Dern in honor of Peter Ecker, acting president of the Utah Ski Club.
During the 1930s and 1940s Ecker Hill was one of a handful of world-class ski jumps in the United States. National meets were held regularly on the hill, and several world records were set there. Large crowds of up to 9,000 people gathered to watch the events. During the early years at Ecker Hill most of the headlines were garnered by skiers from the Professional Ski Jumpers of America, a fifteen-member group that competed for prize money at various locations throughout the country.
Alf Engen is perhaps the best known of the early professional jumpers. He jumped world record distances several times during the 1930s, and each year from 1931 to 1935 he was named National Professional Jumping Champion. His top mark at Ecker Hill was a 281-foot record setting jump in 1934. Other world class skiers who jumped at Ecker Hill included the two-time Olympic champion from Norway Sigmund Ruud, as well as Sig Ulland, Gordon Wren, Sverre Engen, Art Devlin, and 1948 Olympic champion Peter Hugsted.
After the 1949 National Championships, use of Ecker Hill for ski jumping competitions declined rapidly. Longer and better designed hills were being constructed in both the U.S. and Europe, replacing smaller hills such as Ecker. By the 1940s skiers were already coming close to landing on the flat at Ecker Hill with jumps of almost 300 feet. Improved ski jumping equipment and techniques rendered the hill obsolete for world-class events by the 1950s.
The decline in the popularity of ski jumping as a spectator sport also contributed to the demise of Ecker Hill. Ski enthusiasts who had previously been content to simply watch ski jumping were now more interested in the participatory sport of downhill skiing. Local resorts such as Brighton, Alta, and Park City began their rapid growth during the 1950s and 1960s. Ecker Hill was last used around 1960. In recognition of its significance, the site was listed on the National Register of Historic Places in 1986.
View images from Ecker Hill's past.
---
Article by: Roger Roper
From the Utah History Encyclopedia
edited by Allan Kent Powell
published by The University of Utah Press, Salt Lake City
Copyright 1994, The University of Utah Press
Utah History Encylopedia website
published by Media Solutions, University of Utah
Photo Courtesy of Park City Museum and Bea Kumer.